Last November 16th MLI issued my talk in celebration of the remarkable life and achievements of Sir Wilfrid Laurier, the founder of modern Canada and one of my personal heroes.
Laurier deserves a venerated place among the historical figures responsible for making Canada the great country we live in today.
As I argue in the piece, "Sir Wilfrid dwells among us through the wisdom and energy with which he shaped politics, institutions, and especially the ideas underlying modern Canada".
Laurier's "courage and vision" are largely responsible for some of Canada's major achievements during a period where he won four federal elections: Opening Western Canada to mass settlement, welcoming unprecedented numbers of immigrants and unleashing a manufacturing and resource boom across the country.
But outside of those accomplishments, Laurier is worthy of our praise for building a foundation of progress and freedom on which Canada today rests.
Scridb filter
In my early November column for the PostMedia papers (including the Calgary Herald and the Ottawa Citizen) I talk about the Liberals' deep commitment to the ideal of free trade, reaching all the way back to Sir Wilfrid Laurier and beyond. Sir Wilfrid, who exhorted Canadains to "seek markets wherever they are to be found" would have been a huge advocate of the recently negotiated deals with the EU (CETA) and other Pacific Rim nation (TPP). The fact that they were one of the signature achievements of the outgoing government should not make the Liberals look any less kindly on them. Anyone interested in learning more about Sir Wilfrid's amazingly modern vision for Canada and why all parties should be pursuing it, have a look at the book I co-authored with Jason Clemens and Niels Veldhuis called The Canadian Century.
Scridb filter
InsiderOnline has a post about The Canadian Century that once again shows that the book's analysis is attracting wide assent among those knowledgeable about conditions in both Canada and the US:
Thanks in part to the U.S. government's recent spending binges, a group of Canadian authors say that Canada now has the better business environment. "If the United States continues on its current course," write Brian Lee Crowley, Jason Clemens, and Niels Veldhuis, "Canada will find itself without peer as a magnet for investment, immigrants, innovation, and growth." They make this prediction in their new book, The Canadian Century: Moving Out of America's Shadow.

But the issue isn't just fiscal overstretch by the United States. They point to what they call Canada's "redemptive decade" from 1988 to 1997, when politicians of all political stripes supported a program of free trade, trimming the extensive Canadian welfare state, and reducing both taxes and the government's debt burden. Despite some backsliding, those reforms will be the basis of Canada's prosperity, say the authors.

They're certainly right about the recent role reversal. In the latest issue of The Heritage Foundation's Index of Economic Freedom, Canada ranks as the seventh freest economy in the world, one spot ahead of the United States. That's the first time Canada has been ahead of the United States in the rankings, and most of that switch is attributable to a declining U.S. score.
Scridb filter
Columnist Neil Reynolds has devoted his column to The Canadian Century in today's Globe and Mail.
Finally, amid the pervasive gloom, comes an exuberant expression of optimism – nay, faith – in Canada's future. Remarkably, it comes from three economists, practitioners of the famously dismal science. The 20th century, they say, wasn't destined to belong to Canada, as turn-of-the-century prime minister Sir Wilfrid Laurier once asserted it would be. But Laurier, wasn't really wrong, they say – he was merely premature. Make it the 21st century instead.
What went wrong? What caused a 100-year postponement of Canada's manifest destiny? Laurier put everything in place for a century of stupendous advance, these economists say – but the country discarded Laurier's precepts for decades. "We abandoned almost every tenet of Laurier's plan," they say, "and we paid a heavy price for it."

But, bit by bit, Canada has tentatively restored, or begun to restore, Laurier's lost tenets – a restoration successively accomplished by Conservative governments (notably, Brian Mulroney's free trade agreement with the United States in the late 1980s and early 1990s), NDP governments (notably Saskatchewan premier Roy Romanow's principled return to balanced budgets in the 1990s) and Liberal governments (notably Paul Martin's paying down of the national debt in the late 1990s and early 2000s).

[…]

Canadian Century celebrates the good beginning that the "redemptive decade," with its tentative return to Laurier's lost tenets, provided – apparently, given the great global recession, just in the nick of time. It laments the retreat from these tenets that the recession produced. Now, the economists say, is the time to finish the job – now that Canada's opportunity has been doubled "by America's confusion and loss of direction" – and by its own loss of the tenets that produce enduring prosperity.
Scridb filter
My new book (co-authored with Jason Clemens and Niels Veldhuis), The Canadian Century: Moving Out of America's Shadow, is coming out soon! We're having a national launch party in Ottawa on May 20. Click here to register for this event.
Scridb filter
My new book, co-authored with Jason Clemens and Niels Veldhuis, is out!  I will be talking about The Canadian Century: Moving Out of America's Shadow, at the GTA launch party in Toronto on May 25, at an event sponsored by Bennett Jones and chaired by Allan Gotlieb. The invitation is below. To RSVP, please click here.
Scridb filter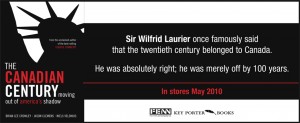 Coming soon: the sequel to Fearful Symmetry
I have had the great good fortune over the last 6 months to work with co-authors Jason Clemens and Niels Veldhuis on a new book that is essentially a sequel to Fearful Symmetry: "The Canadian Century: Moving Out of America's Shadow". This will be the first book of my new national think tank, the Macdonald-Laurier Institute, and will be published by Key Porter. Here is the blurb from Key Porter about the book, which is due out in May, 2010:
One hundred years ago a great Canadian, Sir Wilfrid Laurier, predicted that the twentieth
century would belong to Canada. He had a plan to make it so.

What happened? Canada lost sight of Laurier's plan, and failed to claim its century,
dwelling instead in the long shadow of the United States.

In a bold, fascinating and thought-provoking call to arms, Crowley (author of the
national bestseller Fearful Symmetry) and co-authors Jason Clemens and Niels Veldhuis
envision Canada's emergence as an economic and social power. While the United States
has been squandering its advantages — including making a series of bad decisions that
precipitated a global economic disaster from which it struggles to emerge — Canada finds
itself on a path leading out of the shadows and into a new prosperity that could — if we
stay the course — make us the envy of the world.

It won't happen without effort, however. We must be prepared to follow through on
reforms enacted at the end of the twentieth century, completing the work already begun.
If we succeed, Canada can and will become the economic outperformer that Sir Wilfrid
Laurier foretold, a land of work for all who want it, of opportunity, investment, innovation
and prosperity. America's performance, by contrast, risks trailing ours until they
embrace Canadian-style courageous and far-seeing reform.

Laurier did indeed predict the Canadian Century. He was absolutely right; he was
merely off by 100 years.

Brian Lee Crowley is the author of the national bestseller Fearful Symmetry: The Fall and Rise of Canada's Founding Values. Crowley is Managing Director of the Macdonald-Laurier Institute for Public Policy and is a frequent commentator on political and economic issues for the CBC, Radio-Canada and many other media. His website is www.brianleecrowley.com. He lives in Ottawa.

Jason Clemens is the director of research at the Pacific Research Institute in San Francisco, where he specializes in fiscal policy. His articles regularly appear
throughout Canada and the United States, including the Globe and Mail, the Financial Post, the Washington Post and The Wall Street Journal. He lives in San Francisco.

Niels Veldhuis is vice-president and senior economist at The Fraser Institute. He also
writes a bi-weekly column for the National Post and appears regularly on radio and television
programs across the country. He lives in Vancouver.
Scridb filter