In my early November column for the PostMedia papers (including the Calgary Herald and the Ottawa Citizen) I talk about the Liberals' deep commitment to the ideal of free trade, reaching all the way back to Sir Wilfrid Laurier and beyond. Sir Wilfrid, who exhorted Canadains to "seek markets wherever they are to be found" would have been a huge advocate of the recently negotiated deals with the EU (CETA) and other Pacific Rim nation (TPP). The fact that they were one of the signature achievements of the outgoing government should not make the Liberals look any less kindly on them. Anyone interested in learning more about Sir Wilfrid's amazingly modern vision for Canada and why all parties should be pursuing it, have a look at the book I co-authored with Jason Clemens and Niels Veldhuis called The Canadian Century.
Scridb filter
InsiderOnline has a post about The Canadian Century that once again shows that the book's analysis is attracting wide assent among those knowledgeable about conditions in both Canada and the US:
Thanks in part to the U.S. government's recent spending binges, a group of Canadian authors say that Canada now has the better business environment. "If the United States continues on its current course," write Brian Lee Crowley, Jason Clemens, and Niels Veldhuis, "Canada will find itself without peer as a magnet for investment, immigrants, innovation, and growth." They make this prediction in their new book, The Canadian Century: Moving Out of America's Shadow.

But the issue isn't just fiscal overstretch by the United States. They point to what they call Canada's "redemptive decade" from 1988 to 1997, when politicians of all political stripes supported a program of free trade, trimming the extensive Canadian welfare state, and reducing both taxes and the government's debt burden. Despite some backsliding, those reforms will be the basis of Canada's prosperity, say the authors.

They're certainly right about the recent role reversal. In the latest issue of The Heritage Foundation's Index of Economic Freedom, Canada ranks as the seventh freest economy in the world, one spot ahead of the United States. That's the first time Canada has been ahead of the United States in the rankings, and most of that switch is attributable to a declining U.S. score.
Scridb filter
The Vancouver Sun's most influential columnist, Barbara Yaffe, is telling her readers to read my new book (co-authored with my good friends Jason Clemens and Niels Veldhuis),  The Canadian Century: Moving Out of America's Shadow.
To protect and grow its economy, Canada will have to cosy up more aggressively to Uncle Sam — even as this country moves to overtake the American behemoth on economic competitiveness.

That's the intriguing message from three public-policy gurus writing in a newly published book sponsored by the MacDonald-Laurier Institute, a non-partisan Ontario-based think-tank.

The Canadian Century: Moving out of America's Shadow, by Brian Lee Crowley, Jason Clemens and Niels Veldhuis, spotlights a "Redemptive Decade" — from 1988 to 1998 — of smart fiscal policy by the Mulroney Conservatives and Chretien Liberals, years that saw the introduction of free trade and the GST, cuts to public spending and an overhaul of entitlement programs such as welfare and pensions.

The U.S. has done none of this work and, as a result, today Canada is poised to "find itself without peer in North America as a magnet for investment, for immigrants, for innovation and for growth."

We're in a position, the authors assert, to start offering lower tax rates than the U.S., a significant change from the past, when the U.S., with a smaller government and lower taxes, was always the more appealing place to invest.

But even if Canada takes advantage of this "enormous, historic opportunity," and even if it manages to further diversify its trade, this country will remain overwhelmingly dependent on the Yanks for its continued well-being.

The reason? Canada does not function as a single economic entity: "We are a deeply integrated part of a continental economy and the border represents perhaps the single greatest threat to our ability to seize the opportunity" afforded by Canada's fiscal standing.

And so, the three authors are recommending that Ottawa court the U.S. with a new offer of partnership that would feature:

– A jointly administered perimeter border around North America along with a Canada-U.S. customs union.

– A newly created governing body of MPs and members of Congress to manage binational issues, assisted by a tribunal to resolve cross-border disputes.

The pitch for closer integration — always controversial for Canadians, who fret about the destiny of mice who engage too closely with elephants — is not entirely new.

In the past, the notion has mostly gone nowhere because the U.S. government is so preoccupied elsewhere and the concept is likely to prove difficult politically in both countries.

Anyone who remembers the modest initiative Ottawa and Washington sponsored several years ago, the Security and Prosperity Partnership, understands how good intentions — in that case, an effort to harmonize business regulations and standards to expedite trade — can falter.

The SPP became so mired in politics, with nationalist lobbies on both sides of the border raising a stink, U.S. President Barack Obama killed it on coming to office.

The authors probably have a better chance of getting their ideas enacted on the book's second major theme, Canada's new-found ability to outmanoeuvre the U.S. when it comes to attracting North American investment.

The book praises Canada for efforts in the '80s and '90s that brought federal program spending from 21.7 per cent of GDP in 1994 down to 17.9 per cent by 1998.

But, worryingly, it notes that Ottawa lost its fiscal focus after 2000. Federal spending has jumped from 12.9 per cent in 2008 to 14.5 per cent today.

"There is substantial risk that current federal policy will undo the fiscal reforms of the Redemptive Decade. Indeed a great deal of the progress has already been undone," the authors write.

The free-spending Harper Government clearly will need to stiffen its spine if it's to preserve Canada's hard-won fiscal advantage.
Scridb filter
My new book (co-authored with Jason Clemens and Niels Veldhuis), The Canadian Century: Moving Out of America's Shadow, is coming out soon! We're having a national launch party in Ottawa on May 20. Click here to register for this event.
Scridb filter
My new book, co-authored with Jason Clemens and Niels Veldhuis, is out!  I will be talking about The Canadian Century: Moving Out of America's Shadow, at the GTA launch party in Toronto on May 25, at an event sponsored by Bennett Jones and chaired by Allan Gotlieb. The invitation is below. To RSVP, please click here.
Scridb filter
Macdonald-Laurier Institute (MLI) Fellow Jason Clemens was at the University of Windsor yesterday to talk about The Canadian Century: Moving Out of America's Shadow. Canadian Century will be the first book published by MLI, and is co-authored by Jason, Brian Lee Crowley and Niels Veldhuis. The book is published by Key Porter, one of Canada's largest publishing houses, and will be available in stores in late May 2010.
The Windsor Star's Chris Thompson was there, too, and wrote this news story about the event:
If Sir Wilfrid could see us now.

Canada's seventh prime minister, Sir Wilfrid Laurier, who served from 1896 until 1911, was known for proclaiming the 20th century as Canada's.

You may also know him as the man on the $5 bill.

But according to a new book co-authored by University of Windsor business alumnus Jason Clemens, Laurier's prediction was just 100 years ahead of its time.

"Canada sits on the edge of an opportunity, and that opportunity is the Canadian century, which was Wilfrid Laurier's famous, one of his famous sayings," Clemens said Thursday at a lecture at the Odette School of Business.

"My authors and I think he was right, he was just 100 years (early). If we do the things that we've already done as a nation, as a province, I believe the 21st century will be Canada's century."

Clemens said Canada's strong economic fundamentals, among the leaders of the G8 in most categories, and its ability to keep debts in check have it poised to bolster its stature compared to the debt-burdened U.S.

Clemens has co-authored The Canadian Century: Moving out of America's Shadow, along with Brian Lee Crowley and Niels Veldhuis. The book hits the shelves in May.

Clemens said Laurier was a classical liberal who believed in small government and low taxes, and Canada followed his core beliefs for about 50 years.

"He was not only interested in policy, he was interested in an aspiration for this country," said Clemens.

"He was interested in lifting this country up into a leadership position, not only in North America but in the world. Laurier had great plans and great hopes for our country at the turn of the century. For a very long time, even right into the 1950s, we were essentially following Laurier's principles, in terms of government, in terms of policy, in terms of the role of government in our country. Then we go off course in the mid-1960s."

Canada's government was consuming 15 per cent of the economy in 1965, but by 1992 that had grown to 24 per cent.

"As we deviated and started spending more, what we didn't do is raise taxes," said Clemens.

"We went from a fairly stable period to a huge mountain of red ink."

Clemens said the return to Laurier's values — and the shrinking of the red ink mountain — began with Brian Mulroney and continued under Jean Chretien.

"Canada is a fundamentally more conservative country now when it comes to debts and deficits," said Clemens.

"I think part of that is the struggle that we as a country, and as a province, went through to balance our books. We felt the pain of restructuring and restraint by the government and understanding what running up debts and what that means to citizens and what that means to the country."

Clemens said Canada's position contrasts sharply with that of the U.S., which will be limited in what it can do for a decade or more because of crippling debts.
Scridb filter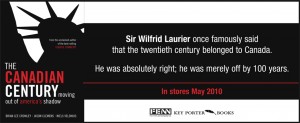 Coming soon: the sequel to Fearful Symmetry
I have had the great good fortune over the last 6 months to work with co-authors Jason Clemens and Niels Veldhuis on a new book that is essentially a sequel to Fearful Symmetry: "The Canadian Century: Moving Out of America's Shadow". This will be the first book of my new national think tank, the Macdonald-Laurier Institute, and will be published by Key Porter. Here is the blurb from Key Porter about the book, which is due out in May, 2010:
One hundred years ago a great Canadian, Sir Wilfrid Laurier, predicted that the twentieth
century would belong to Canada. He had a plan to make it so.

What happened? Canada lost sight of Laurier's plan, and failed to claim its century,
dwelling instead in the long shadow of the United States.

In a bold, fascinating and thought-provoking call to arms, Crowley (author of the
national bestseller Fearful Symmetry) and co-authors Jason Clemens and Niels Veldhuis
envision Canada's emergence as an economic and social power. While the United States
has been squandering its advantages — including making a series of bad decisions that
precipitated a global economic disaster from which it struggles to emerge — Canada finds
itself on a path leading out of the shadows and into a new prosperity that could — if we
stay the course — make us the envy of the world.

It won't happen without effort, however. We must be prepared to follow through on
reforms enacted at the end of the twentieth century, completing the work already begun.
If we succeed, Canada can and will become the economic outperformer that Sir Wilfrid
Laurier foretold, a land of work for all who want it, of opportunity, investment, innovation
and prosperity. America's performance, by contrast, risks trailing ours until they
embrace Canadian-style courageous and far-seeing reform.

Laurier did indeed predict the Canadian Century. He was absolutely right; he was
merely off by 100 years.

Brian Lee Crowley is the author of the national bestseller Fearful Symmetry: The Fall and Rise of Canada's Founding Values. Crowley is Managing Director of the Macdonald-Laurier Institute for Public Policy and is a frequent commentator on political and economic issues for the CBC, Radio-Canada and many other media. His website is www.brianleecrowley.com. He lives in Ottawa.

Jason Clemens is the director of research at the Pacific Research Institute in San Francisco, where he specializes in fiscal policy. His articles regularly appear
throughout Canada and the United States, including the Globe and Mail, the Financial Post, the Washington Post and The Wall Street Journal. He lives in San Francisco.

Niels Veldhuis is vice-president and senior economist at The Fraser Institute. He also
writes a bi-weekly column for the National Post and appears regularly on radio and television
programs across the country. He lives in Vancouver.
Scridb filter